Who Put The Fear Of God Into George & Laura This Year?
Via
The HuffPo
, we learn that the White House Xmas card this year is the most religious one Barbara Walters remembers receiving.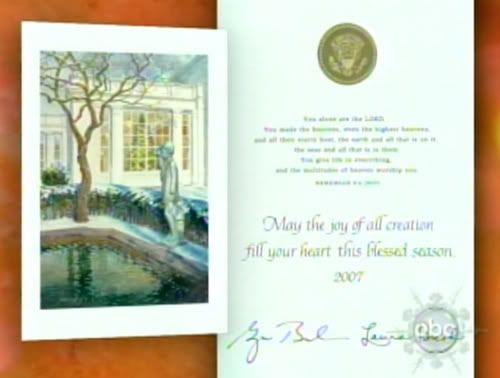 The text:

You alone are the LORD.
You made the heavens, even the highest heavens,
and all their starry host, the earth and all that is on it,
the seas and all that is in them.
You give life to everything,
and the multitudes of heaven worship you.
NEHEMIAH 9:6 (NIV)

May the joy of all creation fill your heart this blessed season 2007.

George Bush Laura Bush

Hm. Looks like George & Laura feel the need to distance themselves from some kind of "Thou shalt have no other gods before me" situation, doesn't it? Why else would they choose Nehemiah?
And is that little boy on the card about to pee into the fountain?
Best bar bet in the world

: Delilah didn't do it.
Judges 16:19-- And she made him (Samson) sleep upon her knees; and she called for a man, and she caused him to shave off the seven locks of his head.