Ohio: Election 2004's New Florida!
Concerned citizens in Ohio (AKA 2004 Election Battleground State) have registered unprecedented numbers of new voters this year!
Great news, right?
Wrong...
If you're Ohio Secretary Of State Kenneth Blackwell.
Blackwell is soooooooo unhappy that he's decide to void voter registration forms printed on the wrong weight paper.

I'm sure this paperweight debacle has nothing to do with the fact that registration of new Democrats is up 250% this year.

From Kenneth's website:
We have received numerous questions concerning the

paperweight of the Ohio voter registration form

. The form prescribed by the Secretary of State must be printed on white, uncoated paper of not less than 80 lb. text weight. Any Ohio form not printed on this minimum paperweight is considered to be an application for a registration form. Your board should mail the appropriate form to the person listed on the application.

However, this office cannot dictate the paperweight of the federally prescribed voter registrations forms: the on-line Federal Post Card Application (FPCA) and the "national" form prescribed by the Federal Elections Commission (FEC). Both of those forms may be printed on regular weight (e.g. 20 lb) white paper.

If you have any questions on this directive, please call my Elections Division at

614-466-2585

.

Sincerely,

J. Kenneth Blackwell LINK
My friend, Citizen, writes:
Blackwell's own form is not on 80 lb. stock!



I have in my hands a copy of a 2004 Ohio Voter Registration form. It is actually a part of a "Vote" brochure with J. Kenneth Blackwell's name all over it.

The last 8 1/2 x 11 page of the brochure is an 8/2 X 11 sheet containing the Voter Registration Form on one side and Blackwell's Address at the Statehouse on the revers, so it can be folded in half and mailed in.

The entire brochure is printed on

REGULAR PAPER STOCK

. While, I am not a paper specialist I know that this is not on 80 Lb. Stock!

Please make a point of mentioning this to Mr. Blackwell if you are lucky enough to reach him!
Let's all reach out to Kenneth!
For more information on Ohio's idiotic paper weight rule, contact Carlo LoParo at (614) 752-8110.
~OR~
Phone: 614-466-3910
Email guide@sos.state.oh.us
Mailing Address:
J. Kenneth Blackwell
Ohio Secretary of State
180 E. Broad St. 16th Floor
Columbus, OH 43215
General Telephone Number (Toll Free): 1-877-767-6446
General Telephone Number (Local): 1-614- 466-2655
Client Service Center:
30 E. Broad St.
Lower Level
Columbus, OH 43215
Questions or problems with the Campaign Finance Database, or general Campaign Finance questions or comments:
email: cfinance@sos.state.oh.us
call: 614-466-3111
Elections questions or comments:
email: election@sos.state.oh.us
call: 614-466-2585
Business Services questions or comments:
email: busserv@sos.state.oh.us
call: Local: 614-466-3910
toll free: 1-877-SOS-FILE
1-877-767-3453
This paperweight debacle might be

almost

funny (on some level) if Kenneth hadn't tried other methods of voter suppression recently:
Secretary of State J. Kenneth Blackwell this week directed county boards of elections to accept otherwise valid voter registration forms in which applicants have failed to submit duplicative citizenship and age affirmation information.

The directive is a result of a recent Federal Elections Assistance Commission advisory opinion

allowing states discretion in interpreting certain new federal standards for voter registration forms. Previously, forms in which applicants failed to check boxes indicating U.S. citizenship and legal voting age were not considered complete

even though the applicant attested to that information elsewhere on the form

.

(See above link)
I guess I wouldn't have such a hard time believing someone would work so hard to deny citizens the right to vote if I knew he was a Big Ol' Chewin' Tobacco Spittin' Southern Cracker...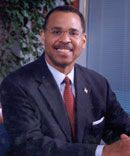 Meet Kenneth Blackwell!