This Week's
Backside
Of The
Bell Curve
Winner!
This guy reminds me of a certain old man in Bedford Falls!



Ohio Supreme Court
Thief
Chief Justice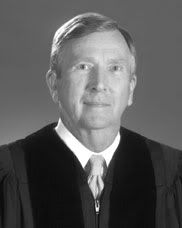 Thomas J. Moyer
Ohio Supreme Court Chief Justice Thomas J. Moyer,

a Republican who was re-elected on the same ballot as President George W. Bush Nov. 2 but has declined to recuse himself from a suit contesting the president's election, issued a motion and procedural ruling today that denies an expedited hearing in the case and lays out the framework by which he might dismiss the case

. RAW STORY acquired the ruling Wednesday afternoon.

In the ruling, displayed below, Moyer orders those contesting the election to answer two questions: (1) Whether the suit is moot because it was filed too late, and (2) Whether there is a legal significance in delaying the hearing until after Congress certifies the results of the electoral college Jan. 6, 2005.



Moyer had previously dismissed the first iteration of the suit—which also contested his own election—ruling that two elections could not be challenged in the same suit.

LINK


Merry Christmas, Old Man Potter Moyer!
Heavy, heavy sigh.