You can judge a book by its cover...
... when the subject of the book is a neocon.


Every teacher and parent can look at these photos of Bernard Kerik and instantly know the score:

Bernard Bad Ass Kerik

Bernard Obsequious Kerik

Neocons are always amazed when they get caught lying...
and then they lie about their lying.


Bush Homeland Security Nominee Kerik Withdraws



By Adam Entous

WASHINGTON (Reuters) - President Bush's pick to become homeland security secretary, former New York police commissioner Bernard Kerik, abruptly withdrew his nomination on Friday due to what he said were

questions over the immigration status of a housekeeper and nanny

he employed.

--snip--

"

I uncovered information

that now leads me to question the immigration status of a person who had been in my employ as a housekeeper and nanny. It has also been brought to my attention that

for a period of time during such employment required tax payments and related filings had not been made

," he said.
Neocons are always amazed when they get caught cheating...
and then they lie about their cheating.


The announcement also came

after news organizations raised questions about some of Kerik's business dealings

, including his profitable membership on the board of Taser International, the stun-gun maker which is seeking to sell more of its devices to the federal government.

--snip--

In addition to the questions about Taser, The New York Times said that in 2002,

Kerik paid a fine for using a police sergeant and two detectives to research his autobiography

.

--snip--



Taser

had said that Kerik intended to step down if he was confirmed, but

acknowledged that Kerik and the company would have to tread lightly in any future dealings

.

Kerik joined Taser's board in May 2002.

Last month Kerik cashed in 177,000 of his Taser shares, pocketing $6.8 million

, according to regulatory filings.

As a board member,

Kerik earned $1,250 per board meeting and he also often acted as a spokesman for the company at law enforcement trade shows

. LINK
But Wait! There's More...
... But there may have been other issues at play. Kerik, who recently made millions in the private sector, once filed for personal bankruptcy as a New York cop. And just five years ago he was in financial trouble over a condominium he owned in New Jersey. More serious trouble than anyone realized: NEWSWEEK has discovered that a New Jersey judge in 1998 had issued an arrest warrant as part of a convoluted series of lawsuits relating to unpaid bills on his condo. The magazine faxed documents, including the arrest warrant, over to the White House around 6:00 p.m. Friday, asking for comment. Neither Kerik nor the White House had any immediate response. At 8:30 p.m., Kerik had submitted his letter to the president.

LINK
Neocons are always amazed when they get caught behaving immorally...

and then they lie about their immoral behavior.
New US Homeland Chief Fathered Daughter in Korea



By Reuben Staines
Staff Reporter

Bernard Kerik, the man tasked with protecting the United States from the threat of terrorist attacks,

fathered a daughter with a South Korean woman while serving on the peninsula in the mid-1970s

, U.S. media reported over the weekend.

Kerik, who was selected to replace Tom Ridge as secretary of the Homeland Security Department on Thursday, had the baby with a woman identified as Sun-ja after arriving in South Korea as a 19-year-old military policeman in December 1974, according to several reports.

The baby, named Lisa, was born in 1975. But

Kerik deserted her and her mother when he left the country in February 1976

. LINK


Kerik has two young daughters with his second wife, Halah, and a grown son. He fathered another daughter while stationed in Korea;

he was able to find her after Sept. 11 made him a national figure

. LINK
So...
We won't have a high school dropout, tax cheating illegal immigrant employer, conflict of interest biz wheeler dealer, deadbeat dad protecting us against

highly sophisticated

box cutter wielders.

Blame the nanny, Bernie Baby.

And look shocked when no one believes you.

Door. Ass. Bang, Bernie Baby.

My prediction:
It won't be long before your good pal and biz partner,
Rudy Giuliani, cuts you loose, too.
Here's one last instantly recognizable photo: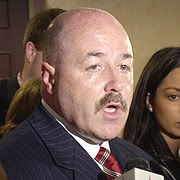 Bernard Damaged Goods Kerik
Heavy sigh.