The Only Thing Missing
Is A Bare Light Bulb
Is the person propped in the chair really the Pope?
Or Norman Bates' mother?
Hm.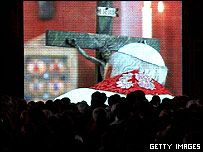 Pope John Paul II makes
Good Friday "appearance."
Pope makes video link appearance





Pilgrims were delighted by the Pope's appearance





Frail Pope John Paul II has used a video link to appear to pilgrims at a Good Friday procession in Rome.



The 84-year-old is convalescing after throat surgery and has been absent from Vatican ceremonies for Easter weekend.

But on Friday night, images from the Pope's private chapel were beamed to giant TV screens at the Colosseum, to the delight of thousands.--snip--



He was shown from behind

, wearing white robes and watching a live broadcast of the event.

He did not speak, but held up a small wooden cross towards the end of the ceremony. --snip--
And a guy running for Pope had this to say...
A top cardinal,

Joseph Ratzinger

, told Italian television the Pope, though weakened, remained "lucid".

"And, given the physical trials John Paul II is going through, even this is a gift from God," the cardinal said. BBC LINK
Heavy sigh.