Memorial Day, 2007: Bush With A Chair In The Cemetery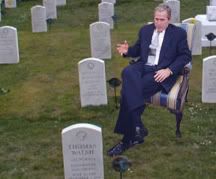 Obviously farked and/or photoshopped, but it says it all about the Miserable Failure's attitude, doesn't it?
Best bar bet in the world

: Delilah didn't do it.
Judges 16:19-- And she made him (Samson) sleep upon her knees; and she called for a man, and she caused him to shave off the seven locks of his head.