Random Minnesota News: Invasion Of The Opodpeople!
Who's running this year's Dem Defeat Fest, anyway?
Purely by accident, I noticed Minnesota mentioned several times in the news this morning:
In Minnesota, Obama Leads By Two



A new Survey USA poll in Minnesota shows Senator Obama leading Senator McCain by two points, 47% to 45%.

Since that's within the margin of error, the race in the Gopher state is effectively a dead heat.
Ouch. Is BarryBarack H. SoetorObama determined to follow in the footsteps of Humphrey and Mondale, or is he just ignoring the need to campaign there?
The next random news item was a front page story in
The Minnesota Independent
this morning: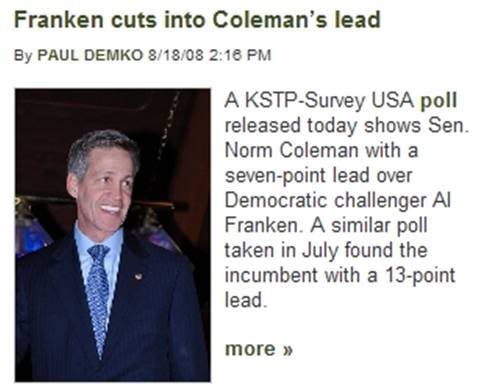 Wow! Al Franken has successfully cut Norm Coleman's lead in half before Labor Day and could unseat the Republican bastard in November! Cool!
But Wait. There's more. From
The Star Tribune
:
Franken to make quick trip to Denver



The DFL candidate for Senate will be at Monday's opener and will speak to the Minnesota delegation, but then will return home and spend the week at the State Fair.

National conventions are often used to cast a spotlight on a party's up-and-comers, and even off-hour slots are fought over.



But noticeable by his absence from the Democratic podium next week in Denver will be Minnesota U.S. Senate candidate Al Franken, who is not expected to be among the featured speakers.
Too bad that Franken time can't be found in Denver. Oh, well. I'm sure Obama tried to fit in as many downticket-campaigning Dems as possible. Right?
Wrong. Keep reading.
There was also this little extra-added attraction about Minnesota this morning, just for the hell of it, I guess: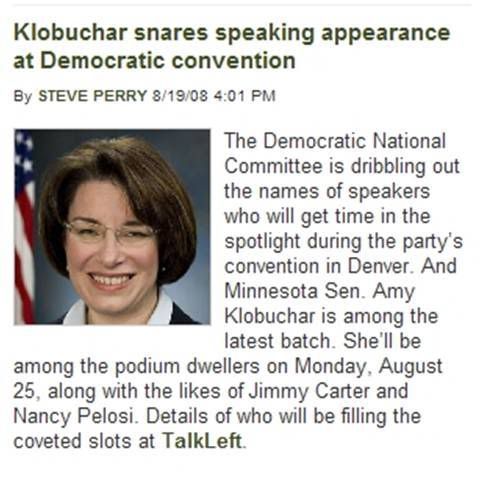 OK, no biggie. Right? We all know that the Obama campaign is bending over backwards to prove that they don't really hate women... just Senator Clinton. Congrats, Obama Superdelegate Amy!
While it's really cool and all that Amy K. is sharing the DNC convention stage (even though she's not up for re-election until 2010)... Minnesota obviously needs a bit more Obamattention this year. Right, Obama?
Maybe a little downticket targeting by the DNC?
Nope. Back in June,
Obama started replacing state-level Dem campaign workers
in Iowa and Colorado with his own Opodpeople:
By mid-June the Obama campaign had deployed its own staff to Iowa to lead its general election campaign here, a move that is typical for a presidential nominee.

But Obama's campaign began to assign organizers to parts of the state where the coordinated campaign already had a presence

, and insiders began to wonder why. In the past week and a half, the answer to that question has been slowly revealed.



Obama's campaign demanded that its own staff replace existing staff in places where there was overlap and cast aside several opportunities to cooperate with down-ticket candidates between now and November, another source familiar with the negotiations said. Essentially, the state coordinated campaign was disbanded and replaced by the Obama campaign organization.

(...)

The situation mirrors what happened

in Colorado, where the Obama campaign announced last last month it would not be joining the state's coordinated campaign and instead would operate alongside it.
And... you guessed it. It's also happening in Minnesota.
Now do you understand why the DNC is having trouble raising money? Word of the Opodpeople replacements has to be getting out. And that doesn't inspire me to open up the checkbook. How about you?
Replacing state Dems with Opodpeople could also explain why... suddenly... Obama and McCain are statistically tied in some states.
Think about it. All those "bitter" state Dems being replaced overnight. Probably not too happy with the DNC... or Obama right now.
By the way, If this is Howard Dean's idea of a 50-state strategy...
Screw that!

Number of days since Donna Brazile promised to leave the party if superdelegates decided the Dem nominee:

Donna has known for a long time now that superdelegates would be necessary for any Dem candidate to win the nomination this year. Ask Donna when she intends to keep her promise.


Don't hold your breath awaiting a reply.
Here's Donna now...
"For the great majority of mankind are satisfied with appearances, as though they were realities, and are often more influenced by the things that seem than by those that are."
-Niccolo Machiavelli (1469-1527)
Best bar bet in the world

: Delilah didn't do it.
Judges 16:19-- And she made him (Samson) sleep upon her knees; and she called for a man, and she caused him to shave off the seven locks of his head.