JBLB: Jenna Bush Left Behind?
Is anyone else as surprised as I am that Jenna Bush has now been denied two teaching jobs because she isn't qualified?


That little fact never stopped her father, did it?

I expected Jenna to spend her 1-2 year workforce sentence in a private school with great photo ops... but, NOOOOOOO...

Jenna had to break the Bush mold and apply for an actual teaching job.

Like real people.
WWJT? (What Was Jenna
Drinking
Thinking?)
Alas and alack, Nickelby (NCLB) regulations (signed into law by Daddy) seem to be Jenna's brick wall.



Philly paper: Jenna can't find work



FIRST, Jenna Bush was going to teach poor kids in Harlem.

Then, after Harlem didn't welcome her with open arms, she decided she was going to teach poor kids at a Washington, D.C., charter school.

Then important news broke: Jenna would wear a Badgley Mischka dress at dad's inaugural ball.

But what about that teaching job? How's that going?

The Washington Post's Reliable Source says not so well.

The White House has been mum on Jenna's job search (odd since they're usually so forthcoming), but the Post believes

Jenna has started work not as a teacher, but as a teacher's aide because she doesn't have the qualifications necessary to take over a classroom under the stringent requirements of No Child Left Behind

.

(Who knew when dad signed it into law in 2002, the child being left behind would be his own daughter?)

The Post reported in December that Jenna was going to teach at Elsie Whitlow Stokes Community Freedom Public Charter School in a low-income neighborhood.

But after rumors flew that Jenna had actually started as a teaching assistant, the Post spoke to executive director Linda Moore.

"Jenna Bush is not employed as a teacher at the school," Moore said.

Asked whether Jenna was working as an assistant teacher, Moore said: "I can't confirm that."

That's when Moore mentioned No Child Left Behind.

She told the Post there are "some very strict requirements about who can be hired and what their credentials have to be, and they do apply to charter schools."

All Laura Bush's spokesman would say is "Jenna Bush has started work." LINK

If/when Jenna finally gets a real teaching job, what will parents tell their children?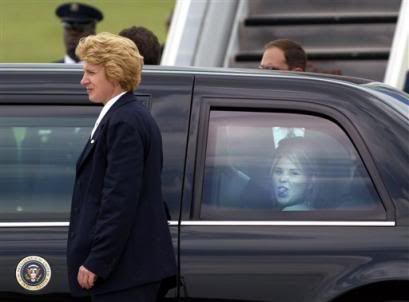 Jenna, The Children's Role Model
Jenna, The Birthday Girl
Jenna, Paving The Way For
Janet Jackson's Boob Incident
When asked to comment on Jenna's current employment status,
George W. responded in the same skilled way he answers foreign and domestic policy questions...
Buck up, Little Princess!
There are always other fulfilling job ops out there waiting for you!


Hey, Jen!
If you can't cut it in Today's Army, you could always get Daddy's friends to buy some Amway products from you!


Sorry, folks!
Today's post was just too much fun for me!