I'm not kidding this time!
Cue that
Law & Order pizzicato
!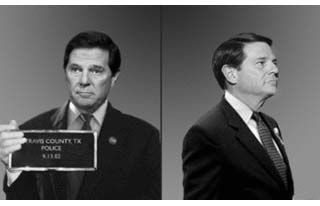 I can't wait for the real mug shot pics!
Texas Court Issues Warrant for DeLay



By SUZANNE GAMBOA, Associated Press Writer 12 minutes ago

AUSTIN, Texas - A Texas court issued a warrant Wednesday for former House Majority Leader
Tom DeLay to appear for booking, where

he is likely to face the fingerprinting and photo mug shot he had hoped to avoid

.

Bail was initially set at $10,000 as a routine step before his first court appearance on conspiracy and money laundering charges. Travis County court officials said DeLay was ordered to appear at the

Fort Bend County

jail for booking.

The warrant was "a matter of routine and bond will be posted," DeLay attorney Dick DeGuerin said.

The lawyer declined to say when DeLay would surrender to authorities but said the lawmaker would make his first court appearance Friday morning. LINK
Uh oh.
So, why not Travis County?
Hm. Something's up.
File this under:
Show
me
the
perp
walk,
damn it!