Today's Sermon: Terminator Jesus
Does Hallowe'en
Hallowe'en, for today's fascist fundies, is not just a reason to eat candy anymore.
From
ghosties and goulies
and long-leggedy beasties
and things that go bump in the night...
Make that
homosexuality, abortion, satanism and all the other wages of sin
.
Meet
Pastor Keenan
, GAWD's little architect of
Hallowe'en Haunted House kits
guaranteed to eff up your children's psyches for eternity...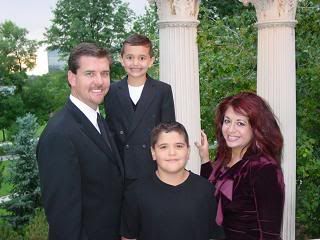 Pastor Keenan, Anjela, Jade and Blaze Roberts
(Look closely at their eyes.
That's right, he married a woman named Blaze,
who looks like she just got down off her stripper's pole)
And here's the info on the "kits" Pastor Keenan wants your church to buy: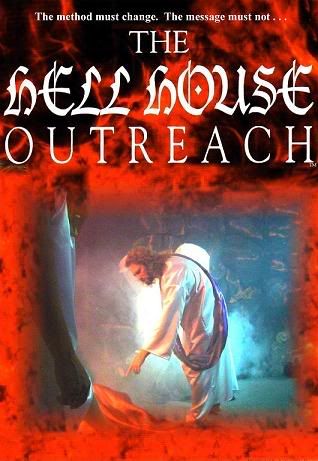 Shake your city with the most "in-your-face,
high-flyin', no denyin', death-defyin',
Satan-be-cryin', keep-ya-from-fryin',
theatrical stylin', no holds barred,
cutting-edge" evangelism tool
of the new millennium!
Your church can buy the kit and construct sets to depict:



Homosexuality — No one is born gay. Genesis 1:27 says that God created man in His own image. Homosexuality is sin and is not just an alternative lifestyle.

* Abortion — It is not merely a surgical procedure or the removal of a mass of tissue. It is the taking of a human life!

* Suicide — The solution to your problems and depression is not found through ending your life. Let Jesus carry you through those tough times and be the strength you are searching for.

* Drunk Driving — The false highs and constant lows of alcohol are never more sobering than when you realize that you are a killer.

* Satanism — The occult is very powerful and not something to toy with. Jesus Christ possesses the only power greater than the kingdom of darkness.

* Hell — Hell is not an eternal party place. It is the home of never-ending torment, anguish and permanent damnation and separation from God.

* Heaven – Heaven is the eternal reward for those whose names are written in the Book Of Life. It is a place of exquisite beauty crowned by the presence of the Lord Jesus Christ and His holy angels.
But Wait! There's More!
Some of the extra modules you can purchase for your quest for salvation...
* Gay Wedding ($45) — This energetic scene will give you another powerful weapon in your arsenal against the homosexual stronghold and the born-gay deception.

* Rave Scene — Youth culture often sees itself as wildly indestructible. The underground world of rave clubs and drug usage proves to be a deadly combination, and hell's demons rejoice.

* Gay/Lesbian Suicide ($45) — This scene creatively combines two cutting-edge issues into one script. The drama for the scene calls for a spiritual battle between the angel of the Lord and the demon tour guide.

* Mother's Womb Abortion ($65) — A young mother is miraculously given the opportunity to learn from her mistake upon being blessed with a visit by her aborted daughter at four different ages of life.

* Sex Scene Package ($45) – This scene deals with the out-of-control sexual appetite our youth are demonstrating in their dating lifestyles.
This is no Trick-Or-Treat joke.
This is a real, mega money-generating, scare-the-holy crap-out-of-you, religious horror show.
If you've ever wondered how hate crime perpetrators are made...
Now you know.

Heavy sigh.

Thus Endeth Today's Sermon.
To those who worship:
Go forth today and celebrate the joyous elements of your religion...
Instead of the fascist fundies' warped idea of hate, hell, fire, and brimstone.
To those who don't worship:
Run!
I mean it, damn it!
File this under:
We've
come for
your daughter,
Chuck.*
*My favorite line from
Beetlejuice
.