Oily Lies and the Oil Men Who Tell Them
Raise your hand if you know someone who still believes anything that Big Oil producers or their investors or their media minions say about gasoline prices.
Keep your hand raised if the mainstream media's oil-dripping ooze, complete with "experts' opinions" leads you to believe that the problem is a lack of worldwide supply due to unrest in Nigeria, Iran, and Iraq.
Keep your hand raised if you're considering buying a new high mileage per gallon car.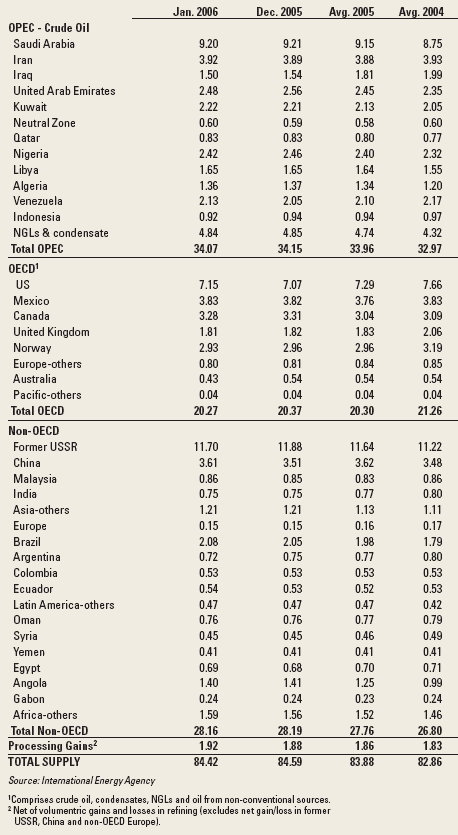 Did you read
the small print
at the bottom? This chart doesn't include oil production stats from the former USSR, China, and non-OECD Europe.
Is your hand still raised?
Greater oil availability

may reduce prices in the coming years



For 2006, the International Energy Agency (IEA) forecasts global production growth of a strong 2.3 million barrels per day (mmbpd), which should outpace the growth of demand for crude oil, estimated at 1.8 mmbpd (a 2.2% increase from 2005 global demand of 83.3 mmbpd).

Non-OPEC production is set to increase in 2006

(after a flat 2005) by an estimated 1.3 mmbpd year on year (0.8 mmbpd when adjusted for lower 2005 production due to Gulf of Mexico hurricanes), while OPEC capacity is expected to expand by 1 mmbpd by year-end 2006.

Spare production capacity is thus expected to trend upward

to above 1.5 mmbpd, according to the U.S. Energy Information Administration (see chart 1), which is still modest when compared with historical averages.

This estimate could well be conservative and spare capacity may increase further in 2007-2009, when many large projects will come onstream.
Yes, we use too much oil. Yes, we ignore funding public transit systems at our own peril. And yes, the environmental impact of continued devotion to fossil fuels is devastating.
Last question: Does anyone still believe the words of a failed oil man/pResident posing in front of yet another damned banner?
Raise your hand if you're sick of the lies, sick of the instability, and just plain sick of BushCo.
So you think you know Delilah?
Judges 16:19-- And she made him (Samson) sleep upon her knees; and she called for a man, and she caused him to shave off the seven locks of his head.