The Washington Post Tells The Truth... On Page A13
Of course, the headline is misleading... again.
Pink Is the New Red


As President Bush's Popularity Falls, the Nation's Color Divide Adds a Few Hues

By Richard Morin
Monday, April 17, 2006; Page A13

It seems that only yesterday American politics appeared to have found its true colors: Republican Red and Democratic Blue, the visual shorthand for an electorate that most thought had become immutably divided by geography and partisanship into red states and blue. According to the latest Post-ABC News poll, Bush's overall job approval rating now averages 43 percent in the states where he beat Democratic nominee John Kerry two years ago, while 57 percent disapprove of his performance.

Bush is even marginally unpopular, at least on average, in states where he beat Kerry with relative ease. The poll data suggest that in states where the president's victory margin was greater than five percentage points, his average job approval currently stands at 47 percent. Red? Hardly. A watery pink at best.

And in states where the president's victory margin was five percentage points or less, a clear majority of residents now disapprove of his performance. Color them light blue.

More ominously for Republicans, their party also has lost standing with the public.
If the WaPo publishes a story on page A13, and major TV news outlets don't cover it, does it still mean that most Americans hate George W. Bush?
Don't hold your breath waiting to find out in November. Republicans cheat.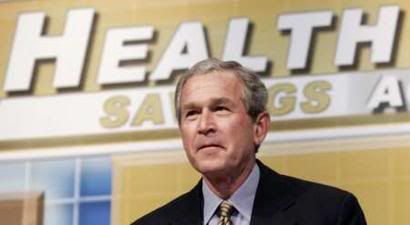 Health Care isn't the only thing sagging, George.
So you think you know Delilah?
Judges 16:19-- And she made him sleep upon her knees; and she called for a man, and she caused him to shave off the seven locks of his head.