Lyme Diseased Tick- 1; George W. Bush- 0; Obvious Conclusion: Bush Is Either Celibate Or He Lied To Us About His Health
Somebody's lying about blood-sucking in the White House.
If this...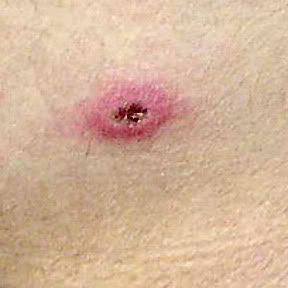 turns into this...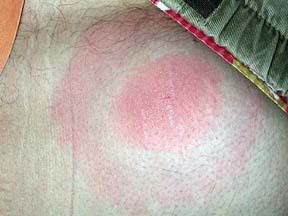 And no one notices, chances are you're celibate.
Or maybe you withheld your health info from the American people, Mr. President.
Which is it, George?
Oh, you choose lying?
Bush was treated for Lyme disease, White House says

(White House deputy press secretary Scott M.) said the incident was being disclosed now, a year after it happened, because the White House discloses the president's minor medical conditions only when it releases the annual report.

Stanzel said doctors decided not to do blood tests to determine for certain that Bush had Lyme disease because the treatment worked and he never progressed to other symptoms, the Associated Press reported.

Stanzel said the president discovered the rash - which appeared on Bush's left leg below the knee - but the spokesman would not specify the treatment Bush received, citing doctor-patient confidentiality.

And here's the celibacy-money quote:

Since his treatment, Bush has become more vigilant about looking for the tiny deer ticks that spread the disease, Stanzel said, and he "does use bug spray and does personal tick sweeps after being outdoors."

Personal tick sweeps?
Where's Laura?
Best bar bet in the world

: Delilah didn't do it.
Judges 16:19-- And she made him (Samson) sleep upon her knees; and she called for a man, and she caused him to shave off the seven locks of his head.