More Insanity From
George W. Hates
A while back (Aug. 6, 2004), I posted
several examples
of the insane Reichwing campaign attacks (on juries/The US Navy/poor, elderly cancer patients/women/teachers, et al) from YOUR pResident, George W.
Bush
Hates.
Today, one of those insane attacks from
George W. and his fellow Chickenhawks
is coming home to roost.
As night must always follow day, veterans and those currently serving in the US Military are finally realizing that when George W. and his fellow Chickenhawks challenge Senator John F. Kerry's military service by questioning the US Navy's medal award process, they are also challenging the service records of EVERYONE WHO EVER SERVED in the US Military.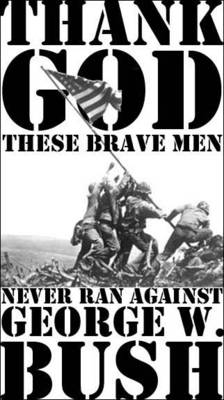 From today's WaPo:
…The campaign got some unexpected help from Wisconsin Republican Rep. Terry M. Musser, a Vietnam veteran and co-chairman of Veterans for Bush. Musser lambasted the Bush-Cheney campaign in the Milwaukee Journal Sentinel over Republican attacks on Kerry's military record. "I think it's un-American to be attacking someone's service record. Period," Musser said in a Washington Post telephone interview. "The president has an opportunity here to stand up and demand that the attacks be stopped."
In Colorado,
Jim Russell
, who participated in Swift boat operations when Kerry did, wrote a letter to the editor of the Telluride Daily Planet to angrily dispute the claim that Kerry was not under enemy fire when he rescued Jim Rassman from the water, a feat that brought Kerry a Bronze Star and Purple Heart….
LINK

Letter to the Editor, A veteran for Truth - Jim Russell, Vietnam veteran, USN (1966-71)
LINK

Attack on Kerry's war record riles GOP rep
(LINK)
GOP Vets Chair Calls for an End to "Wrong" Attack Ads Against Kerry
MADISON – The Chair of the Assembly Veterans and Military Affairs Committee today called on a group of Bush-Cheney supporters to stop running misleading ads about John Kerry's war record. State Representative Terry Musser, who also serves on the Veterans for Bush steering committee, told Wisconsin Public Radio today that it was wrong for the GOP to attack to Kerry for his service in the war. President Bush, however, has yet to call for the ads to be pulled off the air.
LINK
And here's the icing on George W.'s Hate Cake:
Did Democratic Presidential nominee John Kerry deserve his Silver Star, Bronze Star and three Purple Hearts in Vietnam?
And if Kerry duped the military establishment to win his medals, how many other Vietnam veterans own bogus medals?
The first question was raised by Swift Boat Veterans for the Truth, which brought hardball politics to Wisconsin by broadcasting ads claiming that Kerry didn't deserve his medals and lied to get one of his purple hearts.
However, whether SBVT knows it or not, the ad raises questions about everyone else's medals in Vietnam, including the decorated veterans who condemned Kerry in the ad.
LINK
What does George W. hope to accomplish by insulting everyone who has faced enemy fire?


He hopes you won't ask where he was or what he was doing while Senator Kerry faced an 86% chance of dying in battle on March 13, 1969.