Is there such a thing as
a quadruple dog dare?
If so, expect a response from George W. shortly...
Japan pledges US$500m grant
for tsunami-hit areas: report

TOKYO - Japanese Prime Minister Junichiro Koizumi on Saturday pledged 500 million dollars in grant aid for the countries badly affected by the tsunami disaster, Kyodo news agency said.

Copyright © 2004 Agence France Presse. All rights reserved. LINK
Agence France Presse got the scoop?

Insult, meet Injury!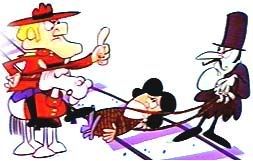 George W. (Pictured Far Right) laments
being upstaged by the good guy.
Curses! Foiled again, George W.!