White Smoke Watch
The Pope has been hospitalized.
They say it's the flu.
With the Pope's access to the world's finest scientific health care, it makes one wonder, doesn't it?
Regular readers know that I've been writing about the upcoming papal election for several months now.
When the time comes, I'll repost my research on the top candidates and their chances.
Meanwhile, if your elderly loved ones don't have access to the world's finest scientific health care (much less a flippin' flu shot), I guess you'll just have to pray.
Oh, here's the news story...
Pope Taken to Hospital -Italian Media
14 minutes ago
ROME (Reuters) - Pope John Paul was taken to hospital late on Tuesday, Italian media including national news agency Ansa said.
The pope fell ill with influenza on Sunday and was forced to cancel all his engagements over the past two days.
There was no immediate comment from the Vatican.
Italian television said the 84-year-old Polish-born pope, who has been in poor health for some years, had been taken to Rome's Gemelli hospital, where he has been treated in the past.
LINK
I just have to ask...
Was Jesus sending Il Papa a message when that dove attacked him the other day?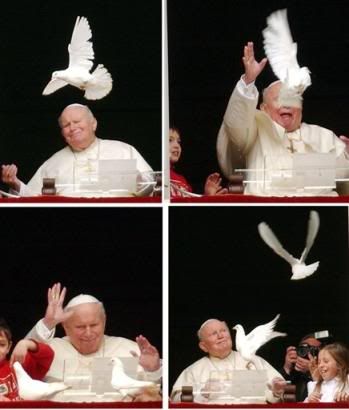 Just asking.