Pass The Drawn Butter!
Bubba The Lobster has died.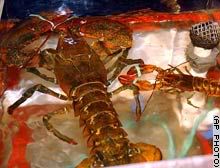 Bubba, weighing either 22 or 23 pounds,
depending on the source, had the audacity
to die before proper boiling; hence, lobster lovers everywhere suspect suicide.
Bubba the huge lobster dies at Pittsburgh Zoo



Wednesday, March 02, 2005
By Anita Srikameswaran, Pittsburgh Post-Gazette

Bubba, the 23-pound-lobster that got front-page treatment today after a seafood store spared its life, died at about 3 p.m. today at the Pittsburgh Zoo and PPG Aquarium.

The cause of death is not yet known, but the lobster did not eat since his transfer yesterday from Wholey's in the Strip District to the aquarium in Highland Park, the zoo announced.

A necropsy will be performed.

Bubba, estimated by some to be as old as 100 and by others to be as young as 40, was caught Thursday in the Atlantic Ocean. An animal rights group had asked that the huge crustacean be taken back to the ocean. LINK
Hm.

Just this morning, Bubba appeared to be in good health.
'Bubba', 22-pound lobster, to be saved



Wednesday, March 2, 2005 Posted: 4:24 PM EST (2124 GMT)

PITTSBURGH, Pennsylvania (AP) -- He could have survived two world wars and Prohibition. He also could have been dinner.

He's Bubba, a 22-pound leviathan of a lobster pulled from the waters off Nantucket, Massachusetts, and shipped to a Pittsburgh fish market.

On Tuesday, Owner Bob Wholey gave the lobster to the Pittsburgh Zoo & PPG Aquarium, which will send him to an aquarium at a Ripley's Believe It or Not museum.

"It is overwhelming," Wholey said. "If you see it, you will never forget it. Customers are just in awe."

People for the Ethical Treatment of Animals sent Wholey a letter asking him to work with the group to release Bubba back in the Atlantic Ocean off the coast of Maine.

Another group calling itself People For Eating Tasty Animals reportedly offered Wholey a hefty price for the lobster. At Tuesday's price of $14.98 a pound, Bubba would retail for about $350.

Based on how long it typically takes a lobster to reach eating size -- about five to seven years to grow to a pound -- some estimate Bubba is 100 years old.

LINK
Such a waste!