George W. Bush:
Let Them Eat Cake Beignets!
If a picture paints a thousand words, what does this one tell you about George W. Vacation From His Vacation & John McCain?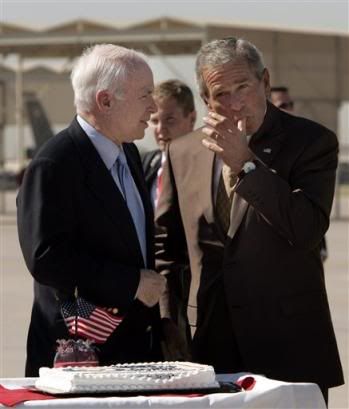 "U.S. President George W. Bush (R) licks frosting off his fingers
after presenting Arizona Senator John McCain with a birthday cake
on the tarmac at the airport in Glendale, Arizona, August 29, 2005.
McCain was celebrating his 69th birthday. Later Bush attended
a townhall-style meeting to discuss Medicare
prescription-drug benefits for senior citizens."
Meanwhile...
New Orleans levee breaks




Katrina's death toll at 54



Tuesday, August 30, 2005; Posted: 6:22 a.m. EDT (10:22 GMT)




NEW ORLEANS, Louisiana (CNN) -- As the death toll from Hurricane Katrina reached at least 54, a levee holding back the waters of Lake Pontchartrain sustained a breach two blocks long overnight in the Lakefront area of New Orleans.

The breach triggered rapidly rising floodwaters in the city's downtown and prompted at least one hospital to evacuate patients by air.



The death toll was expected to climb from one of the most powerful hurricanes to hit the U.S. Gulf Coast in half a century.

Fifty of the deaths occurred in one county in Mississippi, CNN confirmed. LINK
OK. I know George W. read his prepared statement yesterday, typed in 16 pt font on his 3X5 notecard, before the hurricane reached landfall and before he continued his Hasty Retreat Tour away from the path of Hurricane Cindy Sheehan, but damn!
I'm also sure that George W. will do a fly over after all the screams die down and the bodies are no longer floating down the flooded streets.
Sometimes a picture paints a single word...
Heartless.
File this under:
Truly
Heavy
sigh.