Brokeback Bush & The Potemkin Pickup Truck
I have a few questions for native Texans (like me)...
Have you ever in your life seen a rancher who stands like this?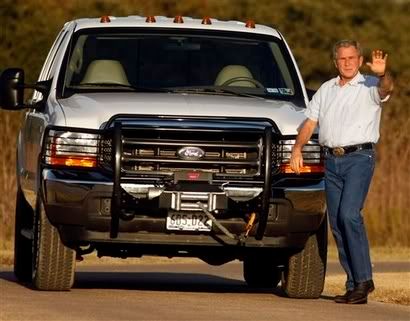 Have you ever seen a working-ranch truck this clean?
And how about that
grill guard
? Is that really necessary when you don't own any cattle?
Grill guards are popular with industrial users because it is easier to purchase a new grill guard than a new grill and radiator. For the rancher, grill guards are a wise investment. Cattle never make a light impression when they accidentally foist themselves into a grill while trying to eat hay that is under a parked truck.
If you're the Potemkin president, I guess you think you need
the full package
.
Bush.
Like a rock.
Just dumber and puffier.
Best bar bet in the world

: Delilah didn't do it.
Judges 16:19-- And she made him (Samson) sleep upon her knees; and she called for a man, and she caused him to shave off the seven locks of his head.