"Critter Sizing" The President
Those "Dancing With The Stars" viewers
write the darndest things
...

"UM I THINK THAT CRITTER SIZING OUR PRESIDENT, *****OUR****** PRESIDENT, MISTER QUOTE UNQUOTE "BRITISH", MISTER I THINK I KNOW IT ALL!!!!!11 ALL!!!! DURING A TIME OF WAR??? ON TERROR????? I DON'T ***THINK**** SO!!!!! I DON'T ****THINK****** SO!!!!!!! THIS IS A VIOLATION OF THE **PATRIOT ACT**** AND THAT IS A BIG FAT GOTCHA, BRITISH AND LIB SYMPATHIZZER'S! YOU CAN **NOT** SPEAK OURT AGAINST OUR COMMANDER IN CHIEF!!! BY LAW!!!! SO PRISON OR DEPORTATION, WHAT IS YOUR QUOTE UNQUOTE "PLEASURE"???????"

Go ahead, SYMPATHIZZER'S! SPEAK OURT!
And buck up, little freeper! Here's your precious president...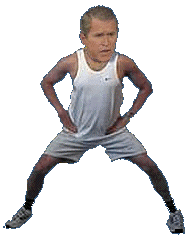 Best bar bet in the world

: Delilah didn't do it.
Judges 16:19-- And she made him (Samson) sleep upon her knees; and she called for a man, and she caused him to shave off the seven locks of his head.