This Week's
Backside
Of The
Bell Curve
Winner!
Yep, he's baaaaaaaack!
Retiring
US Secretary Of State
And Resident Bozo
Colin Powell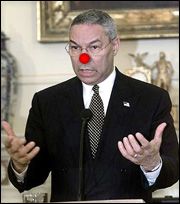 Loyal to the bitter end,
is there nothing this man won't do
to prop up George W.?
Powell: U.S. May Increase Aid Pledge Later



By Anne Gearan The Associated Press
Published: Jan 6, 2005

JAKARTA, Indonesia (AP) - Fourth in the lineup of nations bankrolling tsunami relief efforts,

the United States will probably increase its pledge once "the true dimension of this tragedy" is clear, Secretary of State Colin Powell said Thursday.





Powell also said

the group of countries, including

the United States, that led initial relief efforts will now turn its work over to the United Nations.



--snip--

"Now having served its purpose, it will fold itself into the broader coordination efforts of the United Nations as the entire international community works to support the nations who have suffered this tragedy,"

Powell said.



--snip--

The United States took early criticism for being slow to commit cash and political muscle to the relief effort, but

Powell and other U.S. officials say Washington upped its commitment appropriately, as the scope of the damage became clearer.



--snip--

The United States was the first to raise the stakes dramatically in the aid race by pledging $350 million on Friday; it is now behind Australia, Germany and Japan.

Global pledges now near $4 billion, but Powell has repeatedly said that money is not the immediate problem.

Making the relief effort run smoothly in the short run is a paramount concern, along with planning for long-term rebuilding and economic recovery

, Powell said at the start of his Asian tour. LINK
1.5 million survivors without drinking water...
But
money is not the immediate problem
?

Get things

running smoothly

so "we" (trans.

Halliburton

)
can plan for

long-term rebuilding and economic recovery

?

I guess there really is NOTHING this guy won't do!
Here's Powell, preparing to do what needs to be done when the world triple dog dares George W.:

And here's the actual deed: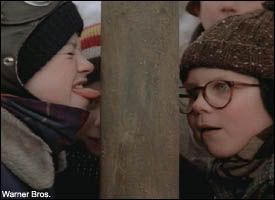 Heavy sigh.