This Week's
Backside
Of The
Bell Curve
Winner!
America's


First
Lady



Mrs. Laura Bush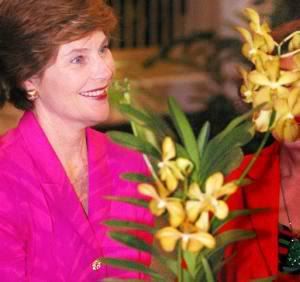 Mrs. Laura Bush poses with her intellectual equals.
Laura's Excellent
Anti-Gang Adventure
Has Begun!
Laura looks

so proud

of her ability to connect with Karl Rove's idea of Future Gang Members, Inc.!

And she's Oh, So Qualified to head BushCo's Anti-Gang Initiative!

After all, she spent almost 2 years as a substitute librarian and teacher before joining BushCo!



First lady Laura Bush addresses a class entitled 'Passport to Manhood'
during an appearance at the Boys and Girls Club of Germantown in
Philadelphia Thursday, Feb. 3, 2005. In Wednesday night's
State of the Union address, President Bush described a new three-year
youth initiative which will be led by the first lady. (AP Photo/Jacqueline Larma)
Everyone is sooooooo glad that Laura could drop by!
So glad, in fact, that some of those

Boys & Girls Club Members

are now thinking

"Gangs don't have to put up with this First lady Valium Queen Visit shit! Maybe I should rethink this After-School Program crap!"




Don't worry, Kids!

She'll never be back.

The photo op is over.
Anyway, your after-school program is probably one of those 150 government-sponsored programs that George W. is about to ax.
Meanwhile...
JUST
SAY NO
TO
LAURA BUSH!
Honestly!
How much lower can BushCo go?