News From The Land Of DUH!
George W. 's little public panic attack
press conference
yesterday just happened to coincide with the House Judiciary's Gannon/Guckert vote...

And all the smart kids say, "Duh!"
Admit it.
You didn't have to read the following story in print to know what it would say.
Judiciary Committee quashes Democrats' effort to demand credentialing info on 'Gannon'



The House Judiciary Committee voted against adopting a resolution demanding Bush agencies turn over all credentialing information related to James D. Guckert 21-10, the discredited conservative reporter and prostitute who wrote under the nom de guerre "Jeff Gannon." --snip--

"If we don't investigate this matter thoroughly," (John) Conyers (D-MI) said, "where and when will be draw the line? I plead with my committee members in the Judiciary to support this very plain but necessary [amendment]."



F. James Sensenbrenner, chairman of the committee, said he felt that "the Administration, in my opinion, has substantially investigated this matter."



"The Secret Service has determined that Mr Guckert did not pose a danger to the President or his family," Sensenbrenner said.

Sensenbrenner outlined his opposition to the measure in terms of not wanting to interfere with "competing investigations" by the Administration he said were already underway. More...

Most Notable Quote from the discussion prior to the vote...


"Gannon has engaged in a
possible penetration
of the White House."

Rep. Sheila Jackson Lee



The final vote was 21-10...
Voting Against:

(All Republicans)

Rep. Sensenbrenner Rep. Coble Rep. (Lamar) Smith Rep. Gallegly Rep. Goodlatte Rep. Chabot Rep. Lungren Rep. Jenkins Rep. Cannon Rep. Bachus Rep. Inglis Rep. Hostettler Rep. Green Rep. Keller Rep. Issa Rep. Flake Rep. Pence Rep. Forbes Rep. King Rep. Franks Rep. Gohmert
If one of those Republican Gay Porn Hooker lovers (R- Hypocrisy) supposedly represents you, drop a dime and voice your

concern

about this whole sordid

penetration

deal.
And send them this...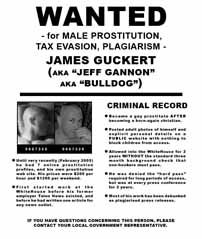 I fully expect More News From The Land Of
Duh!
later today.
Heavy
penetrating
sigh.