White Smoke Update
I grew up with Howdy Doody.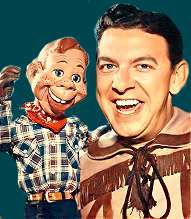 Howdy and Buffalo Bob Smith
On some level, I guess I always knew that a puppeteer was controlling Howdy's every move by manipulating the strings.
But I wanted to believe that Howdy was real.
Pope to Appear on Sunday, Aide Will Read Blessing



ROME (Reuters) -

Pope John Paul will appear at his hospital window

on Sunday and greet the faithful,

but will almost certainly not speak

, his spokesman said on Friday.





Instead, as happened last weekend,

an aide at the nearby Vatican will preside over the regular Sunday Angelus blessing

.

"The Angelus will be like last Sunday," spokesman Joaquin Navarro-Valls told reporters after visiting the 84-year-old Pope in the Gemelli hospital.

Navarro-Valls added that

the Pope would make the sign of the cross with his hand

to people gathered outside his window.

The Pope is recovering from throat surgery and last Sunday was the first time during his 26-year papacy that he failed to preside over the Angelus and pronounce the blessing. LINK
No one had to pretend that Howdy Doody was real for me to believe it.
Heavy sigh.