This Week's
Backside Of The Bell Curve
Winner!
Heartless Fox News Anchor
Brit
"London attacks?
Quick! Call my broker!"

Hume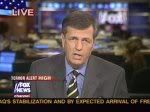 Brit "Personal Basis" Hume
"My first thought when I heard - just on a personal basis, when I heard there had been this attack and I saw the futures this morning, which were really in the tank, I thought, 'Hmmm, time to buy.'"




Watch the Quicktime video
(If you have
a strong stomach)
Pitiful excuse for a human being.

Just file this under Fox News: politics as usual.