Fats Domino Is Missing
Sad, sad news from New Orleans...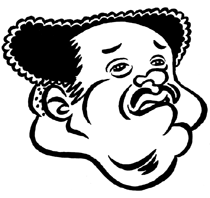 Antoine "
Fats
" Domino, 76, lives with his wife Rosemary and daughter in a three-story pink-roofed house in New Orleans' 9th ward, which is now under water.
On Monday afternoon, Domino told his manager, Al Embry of Nashville, that he would "ride out the storm" at home. Embry is now frantic.
Calls have been made to Louisiana Gov. Kathleen Blanco's office and to various police officials, and though there's an abundance of sympathy, the whereabouts of Domino and his family remain a mystery.
LINK
Also not heard from by friends through last night: New Orleans' "Queen of Soul"
Irma Thomas
, who was the original singer of what became the
Rolling Stones
' hit, "Time is On My Side."
Somewhat safe in the Superdome is
Allen Toussaint
, who wrote
Patti LaBelle
's hit "Lady Marmalade" and
Dr. John
's "Right Place, Wrong Time." His arrangements and orchestrations for hundreds of hit records, including his own instrumentals "Whipped Cream" and "Java" are American staples. (He also arranged
Paul Simon
's hit, "Kodachrome.")
It could be weeks or even months before we all have time to reflect on the reality of the loss of life, the loss of society, and the loss of cultural heritage.
File this under:
Heaviest
of
sighs.