In Memoriam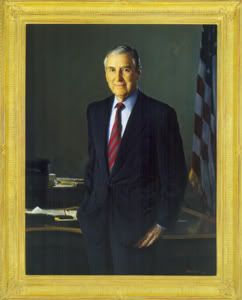 Lloyd Millard Bentsen, Jr.
Bentsen, Lloyd Millard, Jr., 1921-2006, American political leader and U.S. secretary of the Treasury (1993-–94), b. Mission, Tex. He received a law degree from the Univ. of Texas in 1942 and served as a B-24 squadron commander during World War II. A Democrat, he served four terms in the U.S. House of Representatives (1949-57) before starting a successful insurance business.
Returning to politics in 1970, he was elected to the U.S. Senate,
defeating George H. W. Bush
, and served from 1971-93. From 1987 to 1993 he was chairman of the Senate finance committee.
In the 1988 presidential election, the Democratic ticket of Michael Dukakis and Bentsen was defeated by George H. W. Bush and Dan Quayle. As secretary of the treasury under President Bill Clinton, Bentsen helped shepherd the 1993 deficit-reduction bill through Congress as well as the North American Free Trade Agreement and the accord establishing the World Trade Organization.
Lloyd Bentsen will forever be remembered for cementing this look onto Dan Quayle's face:
QUAYLE: I have far more experience than many others that sought the office of vice president of this country. I have as much experience in the Congress as Jack Kennedy did when he sought the presidency. I will be prepared to deal with the people in the Bush administration, if that unfortunate event would ever occur.

WOODRUFF: Senator Bentsen.

BENTSEN: Senator, I served with Jack Kennedy, I knew Jack Kennedy, Jack Kennedy was a friend of mine. Senator, you are no Jack Kennedy.

QUAYLE: That was really uncalled for, Senator.
Lloyd Bentsen has died. Who can fill his shoes?
So you think you know Delilah?
Judges 16:19-- And she made him (Samson) sleep upon her knees; and she called for a man, and she caused him to shave off the seven locks of his head.