There Must Be A Shoe Sale: Rice Intends To Travel To The ME "At Sometime In The Future"
What's she waiting for? Six days have passed since the beginning of this most recent "Presidential Pet Goat Moment."
What could possibly keep the US Secretary of State at home in DC?
A sale on Jimmy Choos?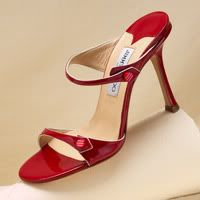 WASHINGTON (Reuters) - U.S. Secretary of State Condoleezza Rice intends to travel to the Middle East to seek to calm the region where Israel has bombarded Lebanon for days and the militant group Hizbollah has fired rockets into the Jewish state.

"At some point in the future, the secretary intends to travel to the region," State Department spokesman Sean McCormack told reporters.

There was no word yet on timing of the visit by Rice, who has just returned from a trip to Russia.
How utterly pathetic. Once again, the Bush administration has left thousands of Americans stranded, hungering for some semblance of decisive leadership and compassion.
And Rice readily
kowtows
to the wishes of both Lebanon and Israel instead of using her power to expedite the safe passage of American citizens out of harm's way?
Hope you're happy, Bush Butt Suckers!
Best bar bet in the world

: Delilah didn't do it.
Judges 16:19-- And she made him (Samson) sleep upon her knees; and she called for a man, and she caused him to shave off the seven locks of his head.