You Can't Make This Stuff Up: 6-Year Old "Grafitti Menace" Cited
Meet Natalie Shea. Looks innocent, doesn't she? Well...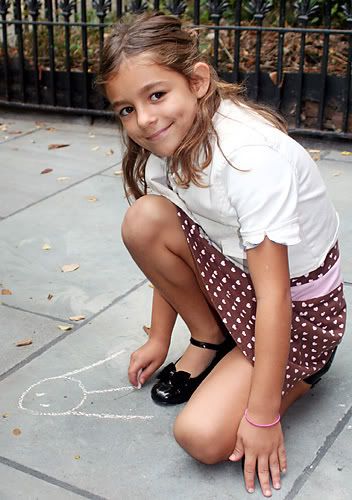 Brooklyn: A 6-year-old Park Slope girl is facing a $300 fine from the city for doing what city kids have been doing for decades: drawing a pretty picture with common sidewalk chalk.

Obviously not all of Natalie Shea's 10th Street neighbors thought her blue chalk splotch was her best work — a neighbor called 311 to report the "graffiti," and the Department of Sanitation quickly sent a standard letter to Natalie's mom, Jen Pepperman.

Sorry, Kid. It's the law, you know.
Since when is a kid's chalk drawing "graffiti"? Since the City Council passed local law 111 in 2005, which defined "graffiti" as "any letter, word, name, number, symbol, slogan, message, drawing, picture, writing … that is drawn, painted, chiseled, scratched, or etched on a commercial building or residential building."
So some pesky neighbor decided to drop a dime on a 6-year old's chalk drawing?

"The report came in as 'graffiti,' and, as you know, the city is trying to crack down on graffiti on private property," said agency spokeswoman Cathy Dawkins.

"It's a standard warning letter," added Dawkins. "The property owner has 45 days to remove it or ask the city to remove it. We'll inspect after that, and if the graffiti is still there, the property owner has another 60 days before we'll write a summons."

For sidewalk chalk that would dissolve at the first rain? Dawkins said the law is on her agency's side.



"The instrument used — whether it's paint or chalk — does not matter," she said.



Got that, kids?
No more Hopscotch.
No more Four-Square.
And don't even think about doing this someday...
Truly heavy sigh.
Best bar bet in the world

: Delilah didn't do it.
Judges 16:19-- And she made him (Samson) sleep upon her knees; and she called for a man, and she caused him to shave off the seven locks of his head.