Rice & Bolten React To The BLushCo Show
Update: Here's a photo of BLushCo from their little show last night...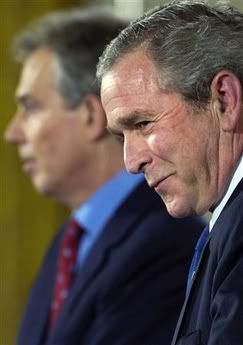 Does this look like someone who's truly mindful of our troops?
We now return you to the actual blog post.
Blair and Bush (BLushCo) must've stunk up the room Dick Cheney BIG TIME last night...
U.S. Secretary of State Condoleezza Rice (L) and Chief of Staff Josh Bolten attend a news conference with U.S. President George W. Bush and British Prime Minister Tony Blair in the East Room of the White House in Washington, May 25, 2006. Blair said on Thursday it was the duty of the entire international community, as well as Britain and the United States, to support the new Iraqi government. REUTERS/Jonathan Ernst
Actions really do speak louder than words.
Congratulations, Condi & Josh! You're this week's
Backside of the Bell Curve
winners!
So you think you know Delilah?
Judges 16:19-- And she made him (Samson) sleep upon her knees; and she called for a man, and she caused him to shave off the seven locks of his head.