In Memoriam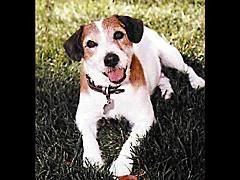 Moose
(aka Eddie, the dog
on
Frasier
)
Dog That Starred In 'Frasier' Dies



NEW YORK -- The dog that drove Frasier crazy has died.

Eddie was played on the television series by a Jack Russell terrier named Moose. His trainer told People magazine that Moose was 16 1/2 years old when he died at her home in Los Angeles.

He'd been retired for the last six years of his life.

Moose also starred in the movie "My Dog Skip" as the older Skip.
Best bar bet in the world

: Delilah didn't do it.
Judges 16:19-- And she made him (Samson) sleep upon her knees; and she called for a man, and she caused him to shave off the seven locks of his head.