James D. Guckert
On A Milk Carton!
Be on the lookout for this man!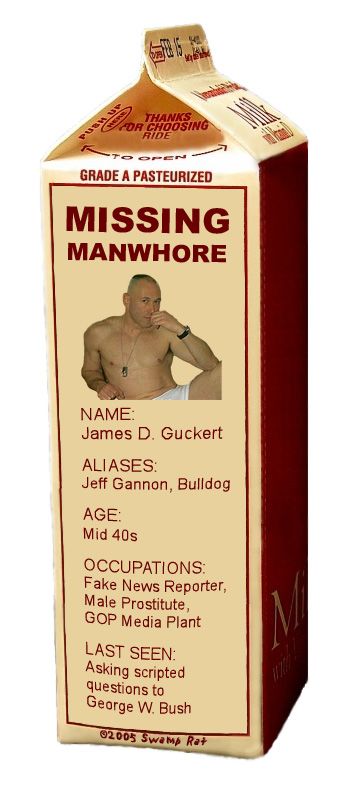 When last sighted, James D. Guckert (aka Jeff Gannon) was inviting even more ridicule from the blogosphere by accepting a spot on a National Press Club panel called
Who's A Journalist?


Yes, you read that right!

No, it didn't read,

"Who's NOT A Journalist?"



And that's not even the funny part...
Press Club Keeps Gannon -- But Adds Others to Panel



By E&P Staff

Published: March 29, 2005 5:00 PM ET

NEW YORK

Despite criticism in some media circles, the National Press Club is standing by its decision to feature

James Guckert -- a.k.a. Jeff Gannon, the former correspondent/ escort

-- on an April 8 panel discussion about journalism and blogging called "Who is a Journalist?" But it has added others to the panel. --snip--

Gannett News Service's Mike Madden and co-chair of the NPC Professional Affairs Committee will moderate the program.



"We've been looking for a balance and a diverse panel all along

, and I'm sure we'll get one," Madden told E&P Tuesday morning after criticism of the panel had begun and before the final group had been named. "It's great that people are taking an interest, but we did not set out to fill the panel to fill an agenda."

LINK
A Balance and a diverse panel
?
Hm.
Is it really fair to showcase only one gay porn hooker?
Where's the balance and diversity in that?
Keep that spotlight on Jim/Jeff!
His saga is far from over!