Today's Sermon:
Public Scandal!
Public Scandal!
Get Yer Public Scandal!
Meet Rodrigo Valdivia, Ultra-Catholic Chancellor of the San Diego Diocese...


Would you buy a used car from this man?
Area: Diocesan Officials and Offices
Office: Chancellor
Title: Chancellor
Name: Rodrigo Valdivia
Phone: (858) 490-8310
E-Mail: RValdivia@diocese-sdiego.org
Address: 3888 Paducah P.O. Box 85728, San Diego, CA 92186-5728
Hm.
I suspect that the Catholics are doing just as good a job at scrubbing as Busco!
While googling Rodrigo Valdivaia, I found this:
The Southern Cross


... diversity of Catholics in San Diego and their interest to be full participants in




the Church," said Rodrigo Valdivia

, chancellor of the diocese and director of ...
www.thesoutherncross.org/default. asp?issueid=03-sept-11&cid=1&aid=194 - 12k - Cached - Similar pages
But, when I clicked on the link, the above quote was not there.
So, of course, I clicked EDIT and FIND and typed in Rodrigo Valdivia...
No results.
I tried again because that little goodie about

diversity of Catholics in San Diego

was too titillating to ignore... given the fact that the same guy was now deciding who is diocese-worthy enough to be buried by the church.
No luck.
See for yourself.
On March 11, 2005, Mr. Valdivia had this to say regarding a PEDOPHILE PRIEST, who was sentenced to one year of treatment:
"The Diocese of San Diego will provide for Father Holtey's treatment until it is complete," Chancellor Rodrigo Valdivia said in a statement...

LINK
So, The Church, who pays the salary for these pedophiles with tithe money, plans to use even more tithe money to pay for their treatment during their sentences?
What a Christian thing to do!
After all, doesn't The Bible tell us that we'll be judged by our actions toward the least of our brothers?
What a difference a week makes in the life of Rodrigo Valdivia!
on March 18, 2005, Valdivia had something quite different to say...
Bishop won't allow funeral for club owner



By Alex Roth
UNION-TRIBUNE STAFF WRITER

March 18, 2005



The owner of a popular local nightclub with a gay clientele can't have a funeral in the Roman Catholic Diocese of San Diego because the church has deemed his business "inconsistent with Catholic moral teaching."



None of the 98 Catholic churches in San Diego or Imperial counties will be allowed to provide services for Club Montage owner John McCusker as a result of the decision by San Diego Bishop Robert Brom. --snip--



Chancellor Rodrigo Valdivia, a diocese spokesman, said the bishop's order applies to all 98 parishes within the diocese's jurisdiction.



Valdivia wouldn't comment when asked to specify which of McCusker's business activities violated church doctrine. He emphasized that the church's decision had nothing to do with the sexual orientation of McCusker, who was gay. Instead, the decision was based on McCusker's "public activity" as a businessman, Valdivia said.

"We received information that the business he was involved with was inconsistent with Catholic teachings," Valdivia said. LINK
So, you ask, does The Church pull this little stunt often?
Mafia boss John Gotti, for example, was denied a Mass and Catholic burial in 2002 for leading a life of crime. So was his predecessor in the Gambino crime family, Paul Castellano, in 1985.

But Castellano's family received permission for a private Mass after his burial.





Maureen Tilley, an associate professor of religious studies at the University of Dayton, said she hears about such refusals only once every decade.

LINK
OK, then.
From time to time, the Catholic Church has tended to tie its very existence to single issues, which define its actions for a few centuries or so.
Eventually, one pope or another issues a mild mea culpa (probably when the coffers need replenishing), and a new cycle of church shenanigans begins.
The Catholic Church, which in 1486 declared that witchcraft was the result of female lust, now won't bury tithing bar owners.
That declaration in 1486 also declared that anyone who didn't believe witches were real was a heretic...
Which usually meant that you met the same fate as those accused of witchcraft.
LINK (Scroll down to the table)
Let's recap...
The Catholic Church refuses to bury a man who is the president of the local Human Rights Commission and who owns a bar and allows (according to the laws of Caesar) gay people to enter its doors.
The reason?
The bar owner's biz practices were
inconsistent with Catholic teachings and might cause a

public scandal
.
This is the same Catholic Church which today calls its PEDOPHILE PRIESTS
pastors
in an attempt to distance their own criminal element from the Holy See and its vast land holdings.
The same Catholic Church who slaughtered millions of midwives, non-believers, and animals (Yes, they burned

bewitched

animals at the stake-- a true sign that they were either totally fucking nuts or bored beyond belief) in order to preserve the power of the sacred sperm.
And yes, the same Catholic Church which turned a mostly blind eye to Hitler and his Brown Shirt Buddies.
The Catholic Church sure never had a problem taking McCusker's tithe (or Gotti's for that matter), did it?
You're the
public scandal
, Chancellor Rodrigo Valdivia, of the San Diego Diocese!
You sit on the
Diocesan Review Board for Clergy Sexual Abuse
, turn yet another blind eye to priests raping little boys, and you dare judge someone who probably never hurt a fly in his life?
Meet John McCusker, who had to be buried in an Episcopal church today...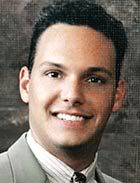 I would ask...
Will no one rid me of this meddlesome priest?
But Valdivia isn't a priest.
He's a Super Hetero, married-with-children, Super Catholic, who happens to be the current chancellor of the San Francisco Diocese.
Nothing more.

In 500 years or so, some random pope will issue a brief mea culpa for having persecuted human rights champions, and yet another cycle of church shenanigans will commence.



THUS ENDETH TODAY'S SERMON.





Go forth and cherish everyone you encounter who's persecuted by mediocrities, such as Rodrigo Valdivia...





And know that you could be their next target.





I mean it, damn it!