Calling All
"Patriotic" Republicans!
Get the checkbook!
The price of this "fine art" bronze bust of George W. McFlightsuit has been
reduced
for quick sale...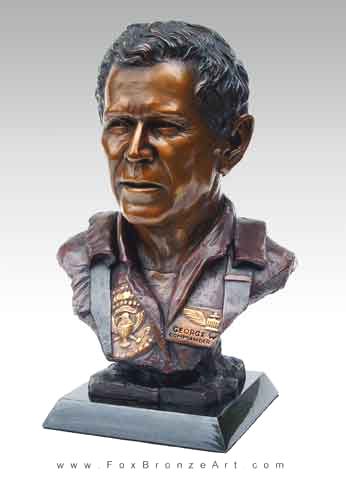 Bronze Bust Image of President Bush



Three years after September 11 we are offering this fine art bronze bust of President Bush entitled "Commander in Chief" to those who appreciate the course that President Bush has taken in the fight against terrorism. This 16" tall image is the most impressive fine art sculpture that you will ever see of our "Commander in Chief". It is now being offered at only

$1,995 plus shipping

. This is a great value for a work of this size and quality and it is cast in the USA.
BUT, WAIT!
THERE'S MORE!
The Ronald Reagan bust is also drastically reduced!


This is the most Extraordinary image of President Reagan on the market.
It is the highest quality fine art bronze casting available and is sure to
impress anyone who sees it.
Order it today ... you will not be disappointed.

Ask About the Special bonus price on the "Freedom's Watch" Eagle
if ordered along with purchase of President Reagan bust.

List Price: $ 3,300
Today's special price:
$2,495.00
OK, Wingnuts!
Do your "patriotic" duty, damn it!
Buy these busts and display them proudly in your homes!
And demonstrate your "patriotic" ability to multi-task!
For the low, low price of $4,490.00 (plus shipping & handling), show your friends and neighbors your "patriotism," as well as your practical ability to multi-task: place these two works of "art" by the door to your garage and use them as Wal-Mart shopping list holders. Just cram your lists into the gaping mouths of your two favorite useful idiots, and you'll never again forget which Chinese sweatshop items you can't live without!
File this under:
"Patriotic"
Pinheads.