This Week's
Backside Of The Bell Curve
Winner!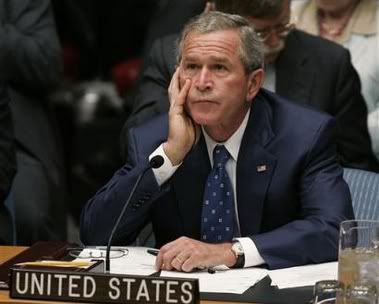 From last night's carefully-staged adventure in teleprompting...
Message to Evacuees
"You need to know that our whole nation cares about you - and in the journey ahead you are not alone."
Tell that to this guy, who was rescued after 16 days, you schmuckwad!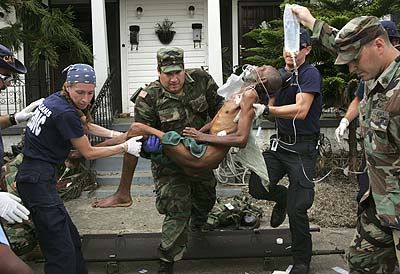 Racism and Poverty
"Poverty has roots in a history of racial discrimination.... We have a duty to confront this poverty with bold action."
Oh, my stars! George W. sees poor people!
What're you gonna do, Dubya?

Start some kind of newfangled "Affirmative Action" program?
Emergency Planning
"I have ordered the Department of Homeland Security to undertake an immediate review ... of emergency plans in every major city."

Didn't you do promise to do that after 9/11?
By the way, your Homeland Security guy,
Michael Chertoff
, isn't exactly Mr. Can Do, is he?
Ahem.
"... in terms of this storm, particularly because it seemed to move to the east at the last minute, and I remember seeing newspaper headlines that said, you know, New Orleans dodged the bullet, on Tuesday morning, and even as everybody thought New Orleans had dodged the bullet Tuesday morning, the levee was not only being flooded, which is, I think, what most people always assumed would happen, but it actually broke."
One problem, Chertoff. NO SUCH NEWSPAPER HEADLINE EXISTS.

Lies. Rhetoric. A pretense of embracing historic Democratic Party recovery plans.
Typical.
Heaviest of sighs possible.
File this under:
Stupid
is
as
stupid
does.