Who needs Photoshop...?
... When you've got AFP file photos and current events-savvy caption writers?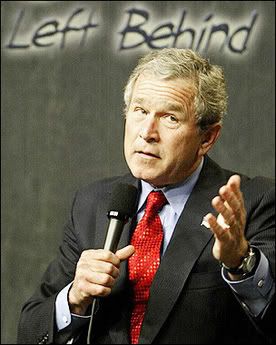 US President George W. Bush delivers remarks on the anniversary of the 'No Child Left Behind Act' to teachers, parents, and students 05 January 2004.

Bush's administration broke the law as it resorted to illegal 'covert propaganda' in trying to sell its key education initiative to the public, US congressional investigators have found.

(AFP/File/Paul Richards)
Thanks, AFP!
File this under:
Connect
the dots.
La
La La..