This Week's
Backside
Of The Bell Curve
Winner!
US Supreme Court Justice
Antonin
"Fat Tony"
Scalia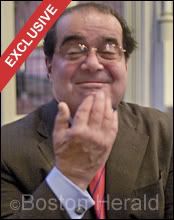 In case you missed it...
Supreme Embarrassment, Antonin Scalia, lied about the obscene gesture and about the obscene remark he made AT CHURCH last Sunday.
Boston Herald: Amid a growing national controversy about the gesture U.S. Supreme Court Justice Antonin Scalia made Sunday at the Cathedral of the Holy Cross, the freelance photographer who captured the moment has come forward with the picture.

"It's inaccurate and deceptive of him to say there was no vulgarity in the moment," said Peter Smith, the Boston University assistant photojournalism professor who made the shot.

Despite Scalia's insistence that the Sicilian gesture was not offensive and had been incorrectly characterized by the Herald as obscene, the photographer said the newspaper "got the story right."



Smith said the jurist "immediately knew he'd made a mistake, and said, 'You're not going to print that, are you?' "
Truly heavy sigh.
So you think you know Delilah?
Judges 16:19-- And she made him sleep upon her knees; and she called for a man, and she caused him to shave off the seven locks of his head.