You're Just Downright Creepy, Laura!
Remember
Highlights
Magazine?
That's right! It's the one with the
Can You Find The Hidden Images In This Picture?
rubric.
Ahem.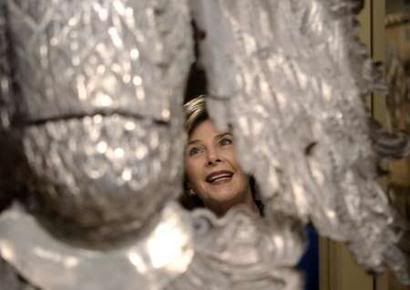 First lady Laura Bush looks on while touring an art exhibit at the National Geographic Museum entitled 'Peru: Indigenous and Viceregal,' in Washington February 25, 2005. Also touring the exhibit with the first lady was Peruvian first lady Mrs. Elaine Karp de Toledo, John Fahey, President and CEO of the National Geographic Society and Susan Norton, Director General of the National Geographic Museum. REUTERS/Shaun Heasley
Laura's obvious adoration of this (cough)

object d'art

(cough) is just weird.

Heavy sigh, y'all.